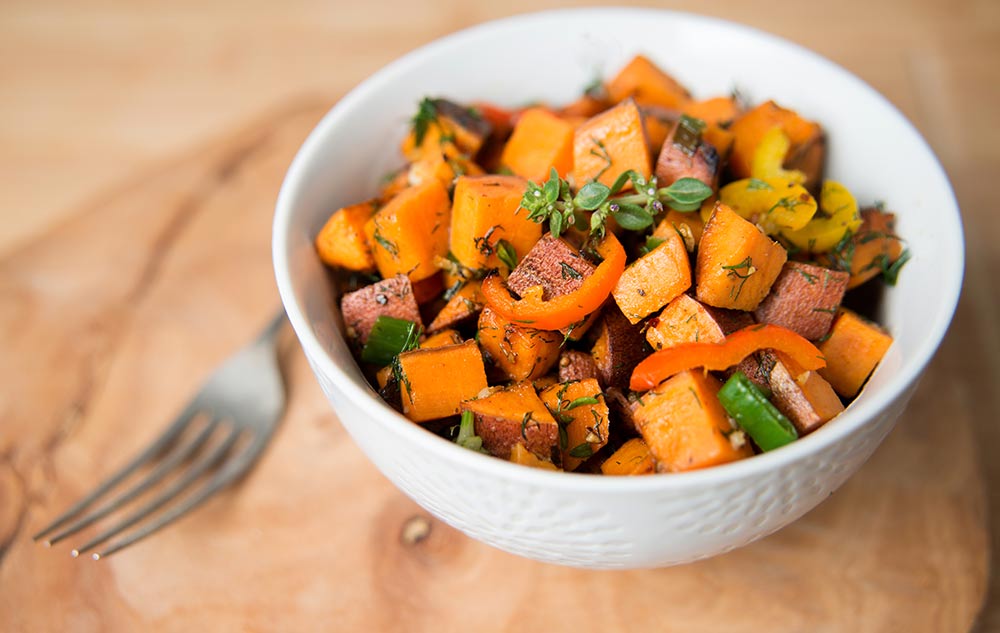 Prep and Cook Time: 25 Minutes
Ingredients:
6 cups sweet potatoes, peeled and cut into 1-inch pieces
1/2 medium onion, cut in half and sliced thin
garlic, as taste requires chopped
1-1/2 TBS finely minced fresh ginger
1/2 tsp cinnamon
1/2 TBS honey
1 TBS + 1 cup chicken or vegetable broth
salt and white pepper to taste
Directions:
Slice onions and chop garlic and let sit for 5 minutes to enhance their health-promoting properties.
Cut sweet potatoes into 1″ cubes.
Heat 1 TBS broth in a 12-inch or larger stainless steel skillet. Healthy Sauté onion over medium heat for 3 minutes, stirring frequently. Add garlic and ginger and continue to sauté for another minute, stirring constantly.
Add sweet potatoes, cinnamon, honey, and 1 cup broth. Mix and simmer over low heat covered for about 15 minutes, or until sweet potatoes are tender. Season with salt and pepper.
Back to the main Let's Get Healthy Together page.