The circumcision of male newborns is an elective procedure where the foreskin of the penis is surgically removed exposing the tip of the penis. Parents who would like to have the procedure performed, Dr. Ward will typically complete the procedure within a few days of the baby's birth.
Benefits and Concerns to Consider
In some cases, circumcision is performed as part of a religious ceremony. In other situations, circumcision may be performed based on family tradition, social mores or the health views of the parents.
Benefits
According to the American Academy of Pediatrics (AAP), the benefits of a circumcision outweigh the risks but they also suggest that parents of newborn boys evaluate their baby's situation before they make a decision.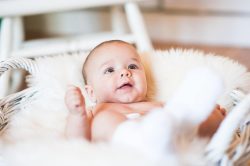 The main benefit of a circumcision is hygiene. Circumcision makes it easier to clean the penis and reduces the risk of:
Foreskin Infection
Urinary Tract Infection
Sexually Transmitted Infections
Circumcision also reduces the risk of:
Phimosis (unretractable Foreskin)
Penile Cancer
Circumcision will only be performed on healthy babies and doesn't affect fertility.
Concerns
There are a few common concerns that parents may worry about in their decision making process. These concerns may include:
Potential Pain to the Newborn
Surgical Risks (Infection)
Damage to the Penis
Penile Sensitivity
Exposure to the Tip of the Penis
Feel free to talk with Dr. Ward about any of these or other concerns. Parents who would like their newborn boy to have a circumcision should contact Dr. Ward for scheduling.
While it isn't necessary to wait until after the birth to make the decision about circumcision, it is always important to evaluate the condition of the baby after the birth to make sure the birth is normal and the baby is healthy before the procedure is performed. Dr. Ward's newborn evaluation will help determine the baby's health status.
Circumcision After-Care
After the circumcision procedure, it is normal for the tip of the penis to seem raw and appear to have a yellow color for up to 10 days. It is important for parents to keep the baby's penis clean by gently washing any stool or urine away with mild soap and water and then allowing the area to dry during each diaper change.
Change diapers frequently and if a dressing or bandage has been applied, make sure to apply new dressing each time the diaper is changed. Coat the tip of the penis with petroleum jelly as the new dressing is applied.
Call Dr. Ward if:
Your baby doesn't urinate after the circumcision for 8 hours.
Your baby's penis continues to bleed persistently.
Redness around the tip of the penis worsens after 5 days.
If in doubt, don't hesitate to call!
Summary
A circumcision is a relatively easy procedure and is commonly performed with minimal risks. After the circumcision, make sure to keep the penis clean changing any dressing for about 10 days.
If you have any concerns, please don't hesitate to call.