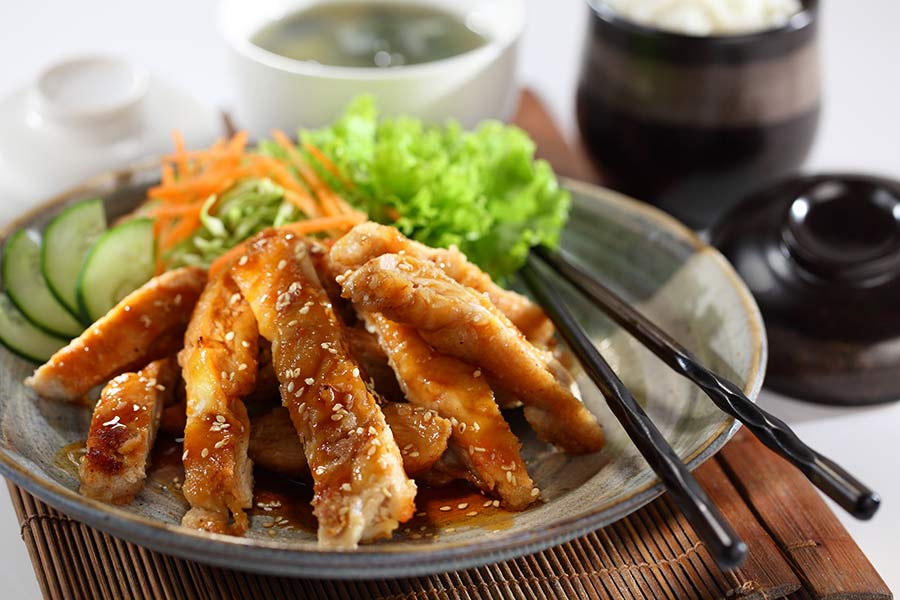 Cashew Fun Facts
Until the discovery of America, it was unclear how long Native Americans had been using cashews, but they found that indigenous South Americans were already removing the outer coating and roasting the nuts as a part of their diets. It was the Portuguese who carried cashew trees back and planted them, spreading the cultivation and appreciation to other European countries.
On any continent, anyone owning a cashew tree in the 1500s was considered very wealthy and important.
Ingredients:
1/4 cup soy sauce
1/4 cup fish sauce
1 1/2 Tbsp. hot pepper sauce
3 cloves garlic, minced
1 Tbsp. minced fresh ginger root
4 skinless, boneless chicken breast halves cut into thin strips
1 cup dry basmati or jasmine rice
1 Tbsp. sesame oil
3 Tbsp. brown sugar
1 small sliced onion
¾ cup water
3 Tbsp. chunky peanut butter
1 cup chopped cashews
Directions:
In a large bowl, mix together the soy sauce, fish sauce, hot pepper sauce, garlic, and ginger. Add the chicken, make sure it's coated, and then marinate in the refrigerator for 2 hours.
In a medium saucepan, bring the (well-rinsed) rice and 1¾ cups water to a boil with a Tbsp. of oil and ½ tsp. salt. Reduce heat to low heat, cover, and simmer 15-20 minutes, stirring once to check the absorption.
Heat the sesame oil in a large skillet over medium heat. Stir in the brown sugar until dissolved, then the onion, cooking about 5 minutes.
Lift the chicken pieces from the marinade (reserving the marinade mixture) and place into the skillet for about 10 minutes or until evenly browned and the juice clear.
Stir the reserved marinade and ¾ cup water into the skillet with the chicken and bring to a boil. Cook and stir for another 10 minutes.
Blend in the peanut butter. Place the rice on a serving platter, pour the marinade over it, and sprinkle the cashews on top. Beautiful and delicious!
Back to the main Let's Get Healthy Together page.